Frostbike is an industry event created by Quality Bicycle Products that brings together a small number of bike shop owners and staff each year in February in Minneapolis Minnesota. QBP is home to a few of our favorite bicycle brands like Salsa, Surly and All-City. The event takes place over a weekend filled with small educational sessions and meetings, and culminates in a trade show hosted in the warehouse at QBP, and an afterparty presented by All-City Cycles. We shot a few photos of the show, enjoy, and always feel free to call the shop to ask about any new products you are curious about!
Easton has a new line of carbon fiber components, including flared drop bars, new carbon stems and these sweet cranks, all ready for your next gravel build!
If you're going to build a show bike, always cover it with gold!
Thomson Components titanium and carbon fiber handlebar offerings.
WTB has a massive amount of new 27.5 PLUS tires on the market, perfect for the new crop of aggressive hardtails.
A fun look inside some of our favorite hubs for custom wheels built by us: DT Swiss, now with three different star-ratchet engagement options.
Nothing new from Foundry Cycles, but this seatstay bridge is still a killer detail.
These guys have trade shows figured out: Tell them a joke, they give you a beer! Plus campfire.
PDW always has fun little gadgets on display, in this case metallic bird-shaped bottle cages!
This is the PDW Bindle Rack, a seatpost-mounted rack that allows anyone to use any dry bag as a seat-mounted bikepacking solution with no bounce or sway.
Schwalbe also has a lot of plus-size rubber ready to outfit your rig.
A new product that we are "pumped" about... (I am so sorry, that joke had to be made) But seriously, a portable fat bike pump seems like it would fit perfectly in a fat bikers bikepacking kit.
Paul Components always with the sweet anodized bits!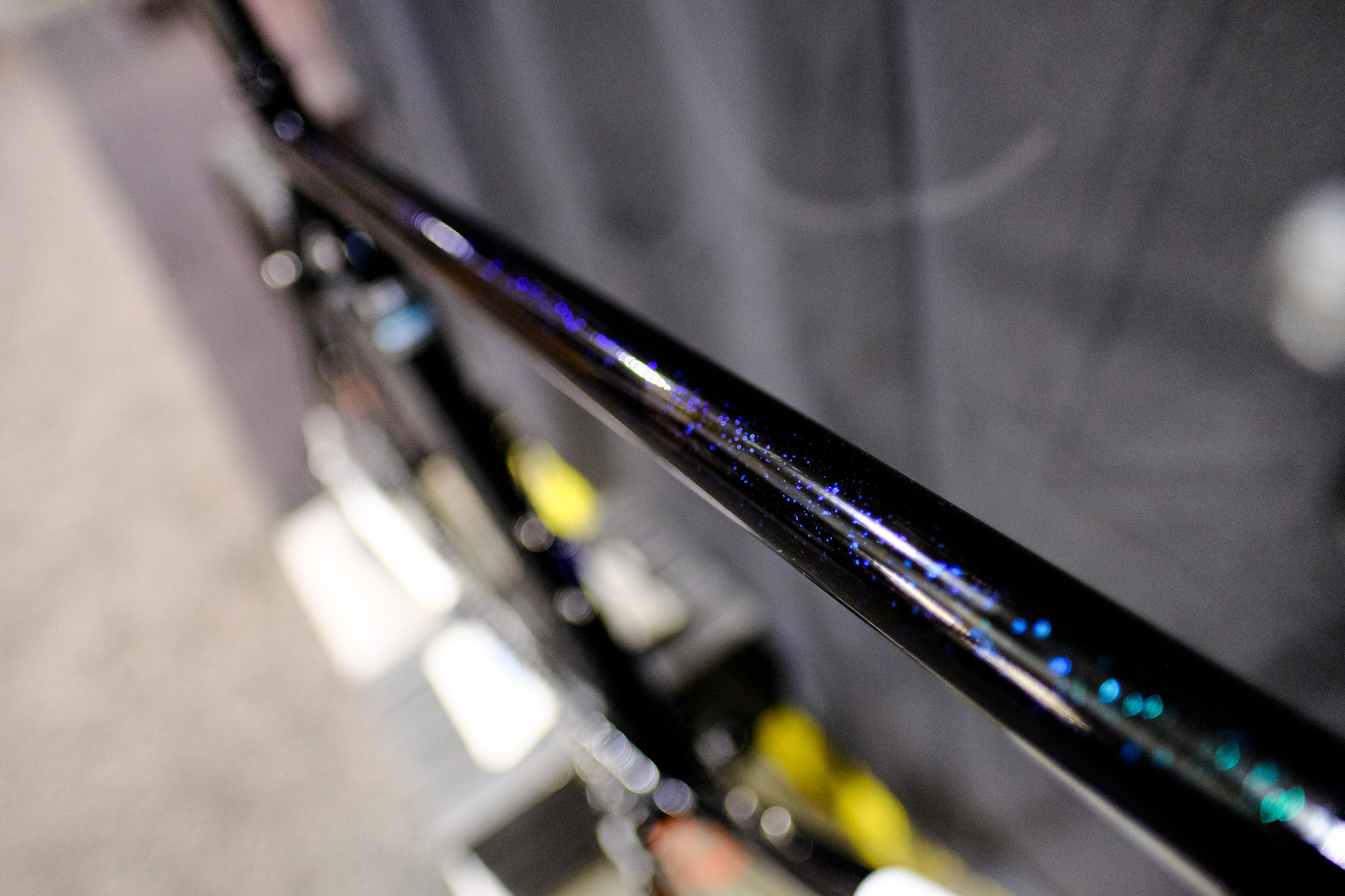 All-City Cycles crushed it with the new builds and colorways this year.
The Mach Man Disc now comes stock in a 1X flavor, and a sweet sparkly paint scheme.
The Space Horse Disc also got a new spec option and colorway.
Shop-guy favorite, the Pony Express remains the same, but this one is set up with a front rack to demonstrate some possibilities.
A personal favorite: a Prince tribute paint job on a Space Horse Disc.
The Log Lady hardtail is as good-looking as ever.
Close-up of the Space Horse Disc paint.
These guys know whats up: bicycle-powered margarita maker!
Inside a TRP gravel fork, with an internal routing tube.
TRP is doing some incredible stuff with brakes. A constant favorite!
Wolftooth Components is always ready to adapt any weird drivetrain need to your specifications. Plus sweet colors!
The Surly booth always keeps it weird.
29x3 Surly Dirt Wizard tire
When the Surly guys yell at you to ride "The Donger", you ride the Donger.
The new Ogre spec and paintjob are killer!
Revelate Designs is still the industry leader in bikepacking equipment and sexy poses.
iSSi pedals come in a variety of colors, but the real selling point is the various spindle lengths that they have available to tune your Q factor.
Onyx hubs are some of the best in the world: truly infinite engagement and completely silent operation. Plus BLING!